On this episode of Dream High:
New member to the Outcast
, figure out how to teach, learning to sing for someone other than yourself, and its raining a pot of flowers.
I had a lot of fun in this episode. I sat up and paid attention. Yes Drama you were able to convey my attention to your episode. Not a shocker since last episode finally got the train moving in the right direction. This episode put the train at normal speed. If this episode is a taste of what to expect in the coming episodes, I am ready to see where these dreams go.
Our Outcast group got a new classmate, Pil Sook. It seems Pil Sook wasn't able to make it in the normal art classes and to get rid of her was sent to the loser class where music is suppose to die I like this group of Pil Sook, Sam Dong, Hye Mi, and Jun Gook. Oh Hyuk and Jin Man … I see a new bromance. I like these two. They work very well together and you can see they both have strengths and weakness but together they are great teachers. Jin Man has the talent and Oh Hyuk knows when to look outside the box. I see President Jung wasn't crazy. There is a method to his madness.
The theme of this episode is emotion and being able to convey feelings into your song. Hye Mi isn't doing so well with the feeling part. Pil Sook tries to help her out by explaining her emotion when singing. Pil Sook has a big crush on Jason. Hye Mi thinks she is misunderstanding Jason's friendliness and evening tells Jason he is giving people wrong ideas or maybe not. You go girl and fight for your friend evening if you don't know that you did.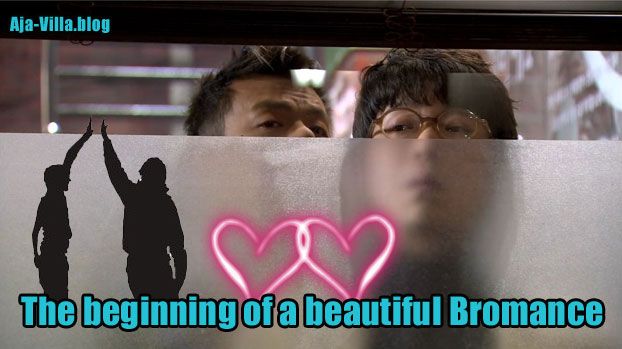 Which leads us to the emotion part of the episode, Jin Gook's hyung failed the bar. Jin Gook wants to do something for him and remembers the bet. Insert SDSN song and make his hyung cheer up and dream about being a lawyer. Hye Mi also starts to remember a little boy from her past who didn't know when his birthday happens to be. That Christmas Hye Mi sang him a birthday song her mom used to sing to her. Hye Mi changes her song to the birthday song for her test.
This song is probably the only song she has ever sung for someone other than herself. How sweet but I hate you too.
Speaking of Sam Dong … I don't think I can love him more. A guarding Angel and hero. Oh more Sam Dong please Drama. I get why we had this episode but more Sam Dong.

The Sum Up:
Happy Birthday to me, Happy Birthday to me … let me make a wish and blow out the candles.
I wish for … more shower scene. Showers are good place to think.