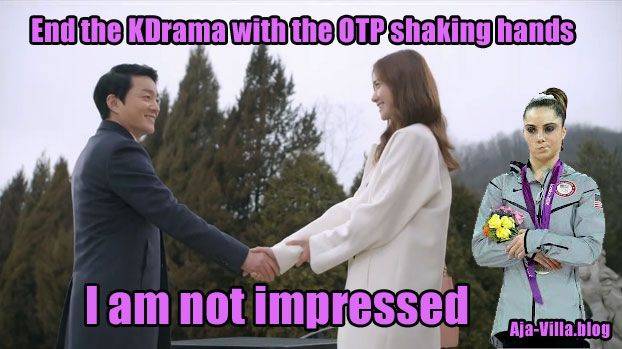 On the final episode of the Prime Minister and I:
My kid hates me, Hyung wakes up, Dad passes, and a year goes by with new beginnings.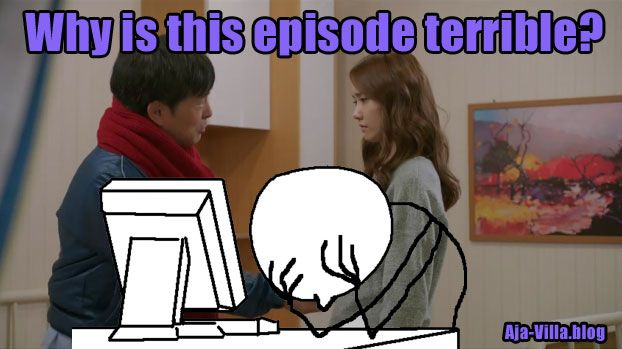 The ending is here ladies and gents. We are saying our goodbyes to the characters we have come to know in the past month or so. You would think with an extra episode to play with you could have given us a better ending? I get the feeling of being told by my parents we are going to Florida for vacation. As any kid's expectations being told Florida you think Disney World and Beaches, sadly you come to find out it is a "family" vacation at your grandparents place. Mind you, the place hasn't been update since the 80s. If I wanted to play BINGO, I could have without leaving home.
As I stated in the last ep-meme, I liked how the conflicts were being iron out. I figure coming into this episode Da Jung would have to deal with her Dad's dying as it was always in the cards. I was holding out hope the rom-com it started would have found its humor for the last 30 minutes. Not to mention, Da Jung and Yul not once did we get to see them as the couple the episodes kept getting us closer and closer too. They got close to be the couple, but with Na Young coming back from the Dead put an end to it. Hey people, good things did happened in the episode … Na Young is slowly being reunited with her kids, Yul's political career is doing well, the connection between Yul and Joon Ki has gotten better, In Ho's brother woke up. Why couldn't we get some comedy? Hello rom-com not a melodrama.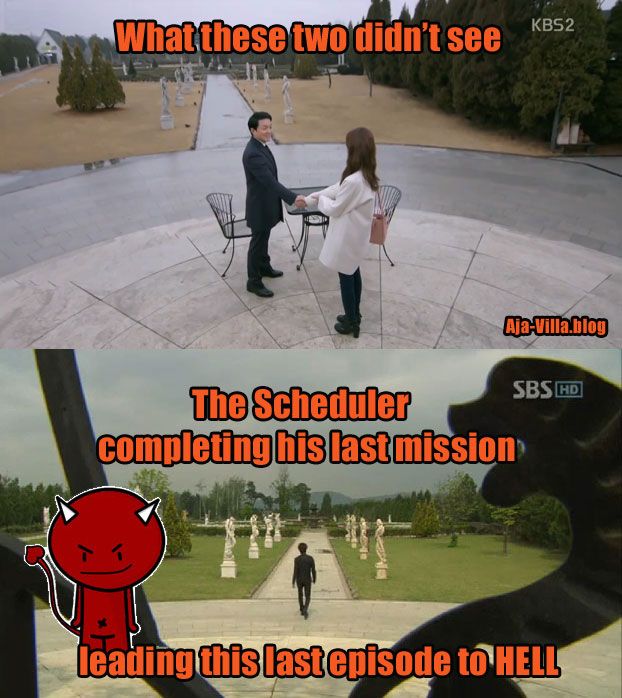 Da Jung … you should have taken Yul with you on part of your road trip. What better why to work out your issues than hours traveling together? Your BS about seeing each other after some time has past being fate is just stupid. Da Jung normally had the street smarts to know the right thing to say or do. Da Jung must have been seized and replaced with a Pod-person. A Pod-Person taking over her life is the only why to explain the choices she made in the last two episodes. But did someone forget she isn't completely dumb? She was able to get Yul and his family together a feat no one else has managed to due before her. GRRR!!!


I am less irritated by this ending than the pervious Drama (
Marry Him if You Dare
). At least someone was picked and our OTP got together again FINALLY, but what a shoddy way to get to your finish line. One of my biggest problems with KDrama's is the lack of the writer knowing how the Drama will end. Stories need an outline. If you're going to start a story know the GOSH DARN ENDING!!!! Know the characters, how the story will start, the conflict which will take place, how to resolve the conflict, and the ending to the over all stories.
We got no humor with our ending. What little romance we got was the lamest I have ever seen. Our OTP reunited to just shake hands. What are we like 5? Really for people in love seeing each other after a year, I don't think they would just shake hands. I have see what normal people do when they reunite with a love one who has been gone and a hand shake is the last thing on their minds. Where are my hugs and kisses? You Drama have been very bad to not even give me a proper kiss. The age gap is a big one between the two of them but that doesn't mean they can't kiss. It's call acting. The characters are supposed to be in love and part of being in a relationship is some skinship (Kissing).
I get the reason behind the handshake but Yul pull her in for a kiss. I have seen worst Drama at least give me some freaking romance I can look back on and think somewhat fondly on the bad Drama.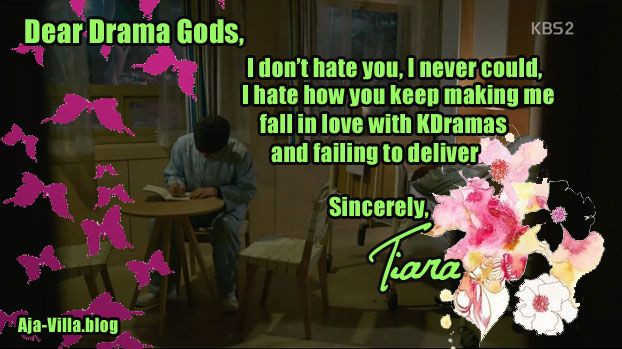 I felt cheated by the ending of this episode. I thought Beaches and Disney World here I come and instead have to play BINGO with a bunch of old people. The pill was bitter and the after taste hasn't helped. I am on my soap box due to the weak and lazy ending. If I got something more satisfying for my OTP, I might not be complaining as much. Sadly, you all get to hear my rant about how much I hated this episode. I don't hate the drama over all. It did the job to a point, but got neglectful in the last minute. Given time, I might not feel as angry. Who am I kidding, it is months since MHIYD ended and I still am pissed off with its cheap ending.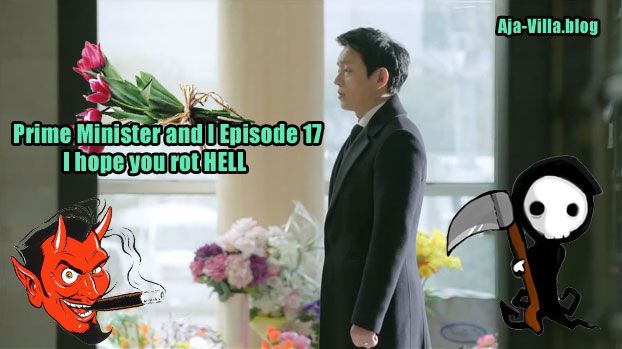 The Sum Up:
You got an Queen up our sleeve ...You Cheat!!!