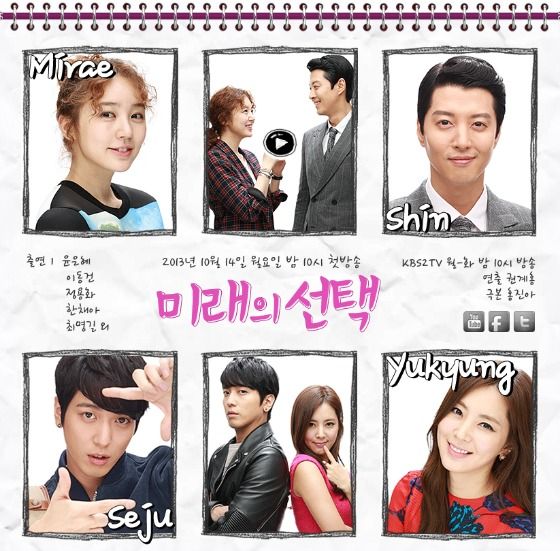 Marry Him if You Dare hasn't gotten a lot of press. I would have to say this is because of the hype for Heirs. To be honest Yoon Eun Hye hasn't had a really good drama. Lie to Me was okay but it wasn't Goong or Coffee Prince. With that being said, I hope Future Choice or whatever you want to call it will be a winner. It sounds interesting enough.
A time traveling drama with Yoon Eun Hye's character Mi Rae is told by her future

ajumma self

who time travel from 2043 to warn her younger self not to marry Lee Dong Gun's character. She instead wants to introduce herself to Jung Yong Hwa's character who happens to be a secret chaebol pretending to be a VJ. Now Mi Rae has to make a choice "be with the one she loves" or "the one she ought to".
First

Yoon Eun Hye's ajumma perm is just killing me. I am caught between laughing and wanting to take a flat iron to her hair. This is one of the things I love about Eun Hye. She takes chances and some of those chances mean a hair cut to get into character (looking at you Coffee Prince). I hope the perm doesn't say to long.
I am very much interesting in finding out how the time travel myth is going to be explained. Not to mention what the fall back will be when she starts to change her future. Isn't this going to change older ajumma Mi Rae when she makes a difference choice? The drama reminds me a little of Roswell season 2 "The End Of The World" – Future Max goes to the "present" Liz to ask for her help to get his "present" self to fall out of love with her and to fall for Tess.
At this point, I am not sure who I want Mi Rae to fall for. I do love CNBlue and have a soft spot for Yong Hwa. You're Beautiful made me totally want the second character to have a chance. One of the reason Heartstrings is a favorite no matter how bad the drama was. I got to love out my fantasy of Yong Hwa getting Park Shin Hye finally. I really love Lee Dong Gun in Sweet 18. I am such a sucker for that drama. Something about it that just makes me smiles. It is the trope of putting two people under one roof and seeing the fireworks or love take over. I love that trope.
I am hoping Viki gets the rights to show this drama soon. Fingers cross.
Take a look at the trailer for this drama below: