On this episode of Prime Minister and I:
Trying to heal up, decision need to be made, rose colored glasses being taken off, zombie or ghost … wait what?
Yul is starting to see thing in a clearer light. Being injure has tamed our Prime Minister a bit. Da Jung and Yul are so adorable together. Da Jung tries a few times this episode to tell Yul how she feels about him. She ends up not being able to say it after Yul is hurt. Tries again while reading to Yul, yet he has to go and say if they confess it would make the girl easy. Oh boy, I am about ready to smack you. Finally she is able to get it out at the end of the episode. I am totally okay with an ending like this. Yul is shocked and doesn't think she means it and Da Jung is trying to tell him she does and stop being shock.
New beginning have endings, Hye Joo says her goodbye to Yul. She thanks him for being the person to teach her how to be a good person. She also gets to tell him she liked him but it is time for her to move on. I really like Hye Joo as a character. I just hope she doesn't do something stupid. I don't see her doing anything dumb since she is a pretty fantastic character. I am happy she is leaving Yul, but I still think she is going to protect him from afar.
Oh the kids!!! Woo Ri telling Da Jung to take care of their dad.
Na Ra called Da Jung "mom" this week. I think it is safe to say the kids are slowly accepting Da Jung into their family. I hope we get to see this family unit grow stronger. Yul is starting to be a dad by seeing his oldest sing. Sure he is touch dad by telling Woo Ri, he needs to study first. Da Jung helps bring this broken family together. She is the glue to making this family happy once again.
I want to touch on Da Jung telling In Ho to forget his plans of revenge. She doesn't say to forgive the person but for his sake she doesn't want him to go down that path. I have to agree with Da Jung. Revenge isn't going to get back In Ho's Hyung as he was before. Harming Yul will end up harming the kids. Those kids could get the idea of having revenge back on In Ho. Doesn't he get revenge will just go in a circle. Not worth it in the end.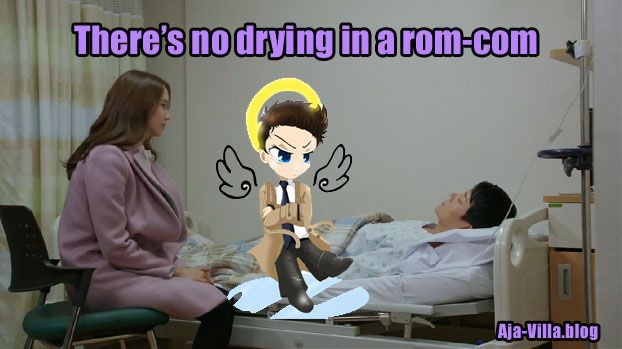 Let talk about the big shock of the episode … Na Young aka Yul's first wife is alive? What the heck is going on? Okay apparently, Na Young wasn't dead but presumed dead since she was missing. I don't think the lady is a clone or a look alike. I really do think this is Na Young. I hope we get a history lesson soon because I don't know what this means. First thing, Yul is still married to his wife. Yul and Da Jung's marriage is fake evening if Yul finally filled the papers out. Not to mention, the kid's have their real mom. This is just a few of the questions and things I see … Omo what is going to happen?

The Sum Up:
I'll see your "I love you" and raise you "a dead wife".
The winner is not me. Good game Drama.